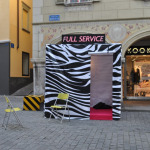 Do you have a wish? A need? A desire? Good news: "Full Service" might pop up soon at a venue near you. I am ready to provide any service you may desire – immediately and on-site. Nothing is off limits – as long as we manage to agree on the conditions and the price.
In the new format "Full Service | Lab",  the performance is complemented with invited guests who give talks and lectures where they develop and expose their theories and models in reference to the context of the performance and its implications. "Full Service | Lab" is an open space where services are provided, thoughts are developed and needs are met – a contemporary consumption temple where people come together: scholars and artists, art lovers and incidental passers-by. The first edition took place in Zürich from 6 – 11 September 2016 as part of the "Manifesta 11 Zürich Parallel Events 2016".
Here you can listen to past talks of "Full Service | Lab".
LEGAL DISCLAIMER:
This site contains material of an explicit sexual nature. If you are a minor, or not legally entitled to view this material in your country, please exit this site now.